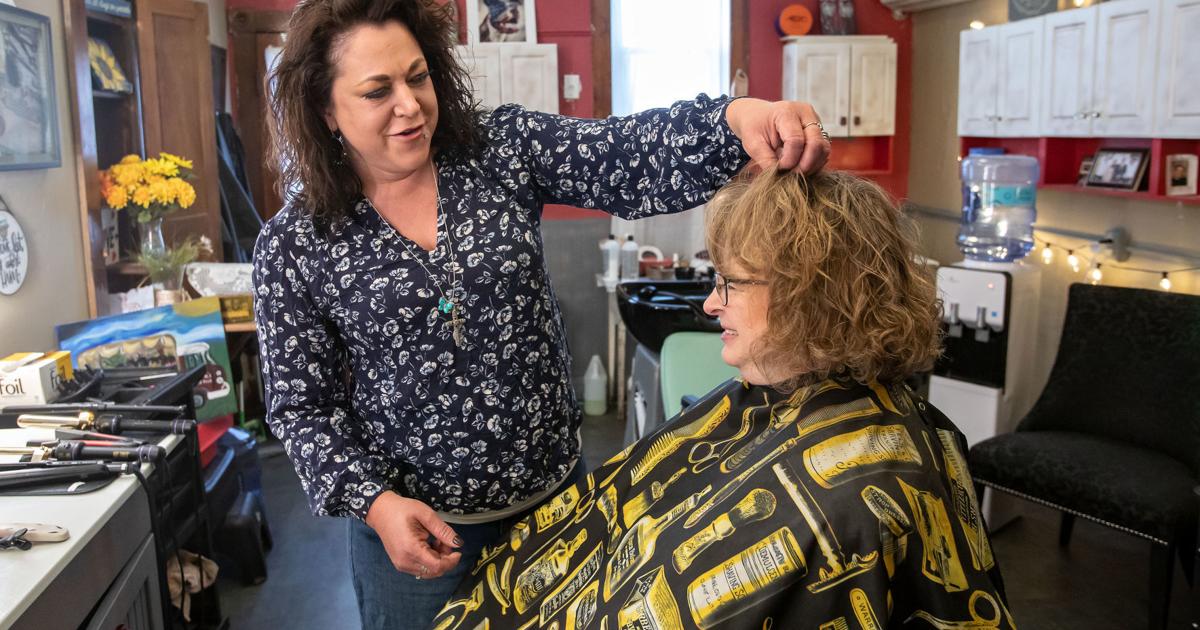 pandemic has taught local business owners valuable lessons | Everyday
Corey Seymour, a financial adviser to Edward Jones, used to go door to door, handing out balloons to show up in hopes of winning clients. Now he has virtual meetings with out-of-town clients he's never met.
This change in the way business is conducted could have taken longer to accomplish without the COVID-19 pandemic, Seymour said.
COVID-19 rocked the business world two years ago, but many local business owners have managed to turn a negative situation into a positive one.
Some have completely changed their business model to improve services and meet customer needs. They say the pandemic has helped bring out the best in them.
"It's truly amazing to see the adjustment that has come from being forced to serve or finding a new way to provide for your family," said Seymour, who operates the Edward Jones site at 228 Elizabeth Drive to Stephens City.
Although Seymour built his business "with a lot of face-to-face punches," the pandemic has forced him into the all-virtual world.
But with some 80-year-old customers who aren't tech-savvy or don't have access to a computer, he also had to find a way to meet their needs.
"A lot of the older clients weren't comfortable with electronic signatures either, so getting documents signed required what I call a porch tag," he said. "I would physically drive the documents to a client's porch, drop them in a sanitized envelope, call them to let them know they were there, watch them walk out and sign. Then, once they were back inside, I would pick it up from their porch, wave, then walk back to the car. »
Seymour got much of his dynamic spirit from his uncle, Eugene Smith, who owns and operates the Eugene B. Smith Gallery at 25 N. Loudoun St. Winchester.
Smith, who has been in business in downtown Winchester for 36 years, creating art and making custom framing, said he always hoped his words of wisdom to his children and their cousins ​​​would be useful one day.
"My children and many of my nephews, they have always learned the importance of selling, meeting the customer and engaging with the customer through me. My job presents a chance for a lot of questions, so I 've always tried to impart that aspect of customer engagement to them," Smith said. "The positivity of being a business owner and the dynamic of adapting to things that can change quite quickly, what to do is think more in a business sense about what might happen. It makes you think about the future. I think that's really important for anyone in a business situation.
Cynthia Schneider, CEO of the Virginia Regional Chamber, said there is now a mix of old and new techniques in the business world.
Before COVID, Schneider said she would have described a strong company as one with vision, drive and output. Today, while these attributes are still needed, she also sees resilience, agility, innovation and empathy as equally important.
Melinda Shanton, owner of salon Desiree Grace at 229 E. King St. in Strasbourg, said she has learned more than ever during the pandemic the importance of customer appreciation.
"I'm lucky to have a stable and loyal customer base," said Shanton, who was forced to close her shop for about three months at the start of the pandemic. Once she reopened, she took every measure to keep her customers safe, which kept them coming back once business resumed. "It made me keep extending my appointment times to show them my gratitude."
Although COVID has created problems for businesses that have had to close, it has also accelerated business in other sectors.
Samantha Stern, owner of Holy Cow Delivery at 9280 John Marshall Highway in Strasbourg with her husband Tim, said COVID was a "blessing in disguise" for their goods delivery service.
"It skyrocketed during COVID. Business has quadrupled," she said. "We were able to launch a website with a shopping cart. It was a huge step. We have learned how quickly demand can change and you must be prepared to improvise to meet these demands. We also learned how important family is and were able to work as a team to accomplish everything to meet those demands.
Turner Kobayashi, general manager of Audley Farm at 752 Audley Lane in Berryville, said the farm's purebred Angus cattle business has seen significant increases during the pandemic.
He said customers seemed to be developing a better understanding of the importance of supporting local businesses, especially after big-box stores saw shortages of products on their shelves.
"COVID has made people realize that there are local people who can supply products," Kobayashi said. "Some of our demand has actually increased, and to meet that we've had to streamline and create an online ordering business. We have carried over some of that across our entire operation now.
The business world remains unpredictable, with ongoing supply chain issues, soaring gasoline prices and COVID-19 still a concern.
Shenandoah County Chamber of Commerce President Sharon Baroncelli said while these types of issues can take business owners away from their daily routines, she continues to show resilience.
"We are seeing our business owners working harder for the same dollar than before the pandemic, but business owners are very optimistic and excited about the changes in the market while being cautious about what lies ahead for them. Street corner. then," she said. "I give our businesses so much credit during these unusual times. They are open and they work hard to the best of their abilities. We appreciate these businesses so much in our community.
Seymour hopes this positivity and innovation will lead to an easier world for customers and business owners.
"A lot of people have become completely comfortable with a virtual relationship and even some of my locals prefer it because they have busy lives so one less trip to our office is helpful if I can view the same documents on screen," he said. "The speed of business has changed and I don't see it slowing down anytime soon. The demand for innovation continues to be at an all-time high, and I'm excited to see how the business continues to evolve. »