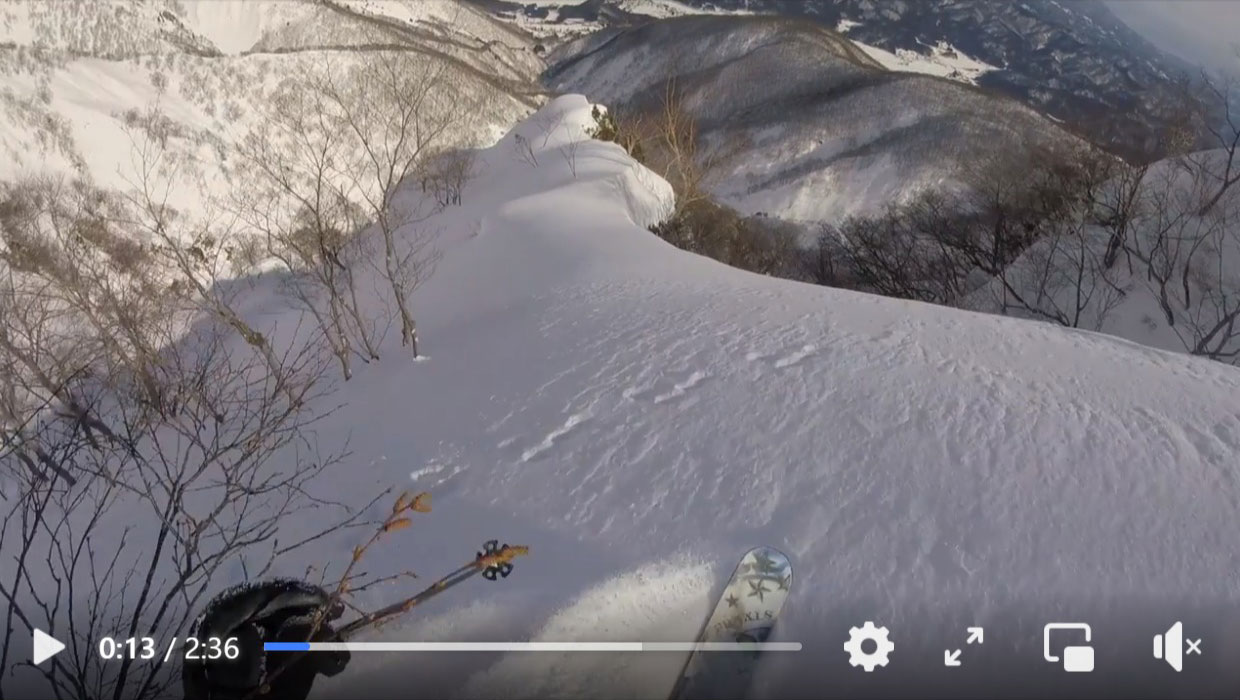 A Hakuba business owner posted envy-inducing powder videos throughout the season
Those of you who haven't been able to make it to Japan in the last couple of years can thank guys like Nick Kowal for their commitment to giving us our dose of powder in Japan, albeit through a screen. the Hakuba Company The owner has kept our Facebook feeds filled all season with clips of perfect backcountry lines from his favorite haunts in Happo and Goryu.
Nick is a 16-year veteran of Hakuba who started skiing in Japan in 1995, so we were eager to hear his thoughts on how the season has gone compared to years past. The word on the vine is that it was definitely one of the best; Snow Japan numbers confirm that it is the second deepest January in the last decade.
"It's been kind of non-stop," Nick says, when we ask.
"There was no hot weather. [In other years] you get those moments where trip managers say, "hey, you should have been here last week". Not this year. This year, every week is the week you should be here.
"You might have a week where one or two days may not be as good as the others. But you'll still get four days of thigh-deep powder that's unbelievably deep and perfect for the backcountry.
"This year, every week is the week you should be here" – Nick Kowal
Nick, who is a licensed ski instructor and aspiring backcountry ski and snowboard guide, reveals that with fewer skiers competing for snow in Hakuba's backcountry, it's also a lot more sure.
"It was very easy, to be honest, to figure out where you want to go and how to stay safe. Because you don't have to venture into anything so crazy to try and get the next line.
"And we don't have the competition to push us into something that we need to do before we're really ready."
Of course, it hasn't all been easy for Nick and his fellow Hakuba business owners, who all operate with a small staff, he says. Nick reveals he has kept his cabin rental business going during the pandemic (catering for expats and Japanese guests) but had to put bookings for his lodge "on hold".
The change, he says, made it easier to plan his day around skiing, which was a luxury he never had while operating the lodge.
"I could never be the first on the mountain. [When you're running a lodge] you have to make sure everyone is out, then you can follow them.
"Now all I have to do is take my kids to school, and then I'm usually up in the mountains – after a coffee – at 8:15 or 8:30, and I don't have to hurry because there is no one."
On the Hakuba Powder Lodging website, Nick describes 2004 as the year his "search for the perfect ski destination" ended – when he and his wife decided to make Hakuba their full-time home. With trips to over 50 other Japanese ski resorts under his belt, we're naturally interested to know why he ultimately chose Hakuba.
"The honest truth is that I saw Niseko explode and I knew Hakuba was probably next. The proximity to Tokyo, the great skiing, the mountain culture here, and all at a great price."
"And you just don't find backcountry access from the ski lifts, like in Hakuba. I've never seen it in other resorts.
So where does a Hakuba resident who has spent 16 years exploring the resort head when it's a powder day?
"I'm mostly a Goryu and Happo guy. If you climb above Goryu you can find some pretty crazy ridges.
"Happo is probably number one if you're going to take it from start to finish. Spring is unbelievably amazing. So much to do there.
"If you followed [Norwegian snowboarding legend] Terje Hawkinson, he calls Hakuba home and uploads crazy videos. We mostly ride the same things, but where he can pull a 360 out of nowhere, I basically ski powder.
The best resorts outside of Hakuba?
With trips to 50 ski resorts in Japan, it would be a missed opportunity not to ask Nick where his favorite spots are outside of Hakuba.
"I think the best resort in Japan for tree skiing is Nozawa Onsen," he says.
"If you were to ask me: storm, powder day, skiing in Japan, that would be my answer.
"And I really like Tenjindaira for the backcountry. You can do a lot there. I was better a long time ago before they realized everyone was skiing under the cable car. Now they're closing [that area] when there is really a lot of snow. "
Zao is another good one, but you need to understand the elevator system. If I were to go there, I would find someone who knows the place. It's apparently a sneaky good place where you can get a lot of stuff that no one else does.
For more information on Nick's business (and to tap into some of his local knowledge!), visit the Hakuba Powder Lodging website.
REAL ESTATE
Find your ski home in Japan with Uchi
From Niseko to Nozawa, from ski-in, ski-out penthouses to cabins in the woods, find your dream winter home with Uchi.